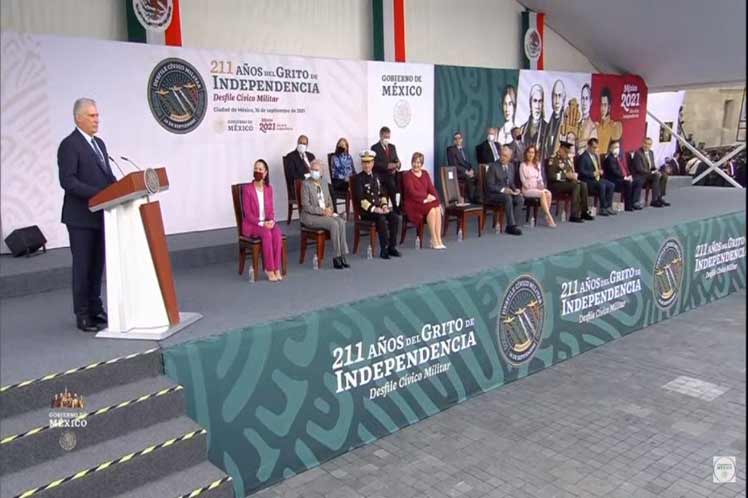 Mexican Revolution inspired Latin America, Cuban president said
Cuban President Miguel Diaz-Canel on Thursday highlighted his country's ties with Mexico beyond fraternal friendship, rooted in history, when claiming that the Mexican Revolution inspired Latin America.
The Cuban leader recalled that Mexico 'was the only country in Latin America that did not break relations with revolutionary Cuba when we were expelled from the OAS (Organization of American States) by an imperial order.'
President Diaz-Canel expressed the Cubans' admiration for the people of Mexico, and his appreciation for Mexico's shows of support against Washington's hostile policy on Cuba.
The Cuban president arrived in this capital in the early hours to participate in the celebration of the 211st anniversary of the Independence of Mexico, invited by President Andres Manuel Lopez Obrador. After that, he will attend the 6th Summit of the Community of Latin American and Caribbean States (CELAC). Diaz-Canel will deliver a speech during the military parade on September 16, Independence Day. 
'On GritoDeDolores (Cry of Dolores) day, Mexico's national holiday, it is an honor to arrive in the endearing Aztec land, to which #Cuba owes, loves and respects so much. Today we will attend the festivities for its independence VivaMéxico' (long live Mexico), he wrote on his Twitter account.
This is the third visit that the president has paid to this country in the last three years. The first one was in 2018 when he attended Lopez Obrador's inauguration. Later, he paid an official visit in October 2019, to discuss bilateral issues at the highest level.
In addition, both presidents have kept in contact by other means, such as the telephone call made by Lopez Obrador in April to thank Diaz-Canel for the solidarity assistance with Cuban doctors to face the Covid-19 pandemic.