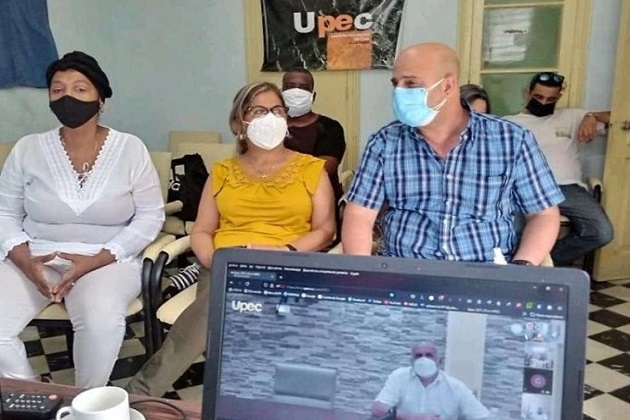 Union of Journalists of Cuba: 58 years at the service of the truth
The CMHW provincial radio station and the Cuban News Agency (ACN), which also celebrated their 88th and 46th anniversaries, respectively, joined the celebrations.
The sociopolitical panorama the Cuban press is currently facing has become increasingly complex and convulsed, which is why the celebration became a virtual protest against the interventionist aspirations of the United States in Cuba.
From the national board of the UPEC, our president, Ricardo Ronquillo Bello, via videoconference, spoke with the representatives of the provincial press in Villa Clara, who addressed the role of the local press at the service of the truth.
The professionals from the press from all over the country, along with professors from the Faculties of Journalism and the students of the specialty, also denounced the political-communicational operation that, after the prolonged manipulative and hateful siege encouraged and financed by the United States Government, tried to provoke a social outbreak in the country last July 11th.
Ronquillo also referred to the role of the Cuban journalists always guided by the just and the libertarian ideals of the Cuban Revolution. As well as the commitment to the ideas of Jose Marti, Juan Gualberto Gomez, Pablo de la Torriente Brau, Fidel and Raul, all ideas that exalt the patriotic greatness of the Cuban people, their integrity and their dignity in facing the attacks of the Yankee imperialism and that ratify the revolutionary vocation of the Cuban Journalism.
On her part, the journalist Rosa Miriam Elizarde explained how the social networks have become a hostile scenario for the Cuban journalists. We are facing an augmented reality with an amplifier of hatred, she stressed.
This idea was developed during the interventions of her colleagues from the media from all over the country, who referred to the communication strategies of the cyberspace and how the physical world determines the virtual scene.
At this defining moment in the national history, the greatest commitment of the Cuban journalists continues to be with the truth, as our greatest soldier and our best argument. The challenge is not to leave zones of silence, but to be objective, ethical and capable of informing, educating and listening to the Cuban people.